I had the opportunity and honor on Friday 10th September 2021 to meet an Indonesian Catholic Sister who has been in the country for the past thirty-three (33) years.
Rev. Sr. Andrea Sri Supadmi was at the Consulate to extend her congratulations to me on my appointment as the Honorary Consul of the Republic of Indonesia in Ghana.
Rev. Sr. Andrea Sri Supadmi a retired Laboratory Technician has contributed a lot to the health sector of the Ghanaian economy over the years. She is still with the Holy Spirit Sisters (SSPS) in Accra.
During our fruitful interaction, she disclosed that there are other ten (10) Indonesian religious missionaries working in some of the Catholic Dioceses in the country. 'There are seven (7) Reverend Fathers and six (6) Reverend Sisters bringing the total to thirteen (13)', Rev. Sr. Andreas stated. According her, these religious faithfuls are currently working in parts of the three (3) Northern Region, Affram Plains in the Eastern Region, Ho in the Volta Region as well as in Accra, adding that most of them are working in hospitals, clinics schools as well as in parishes of the Catholic Church.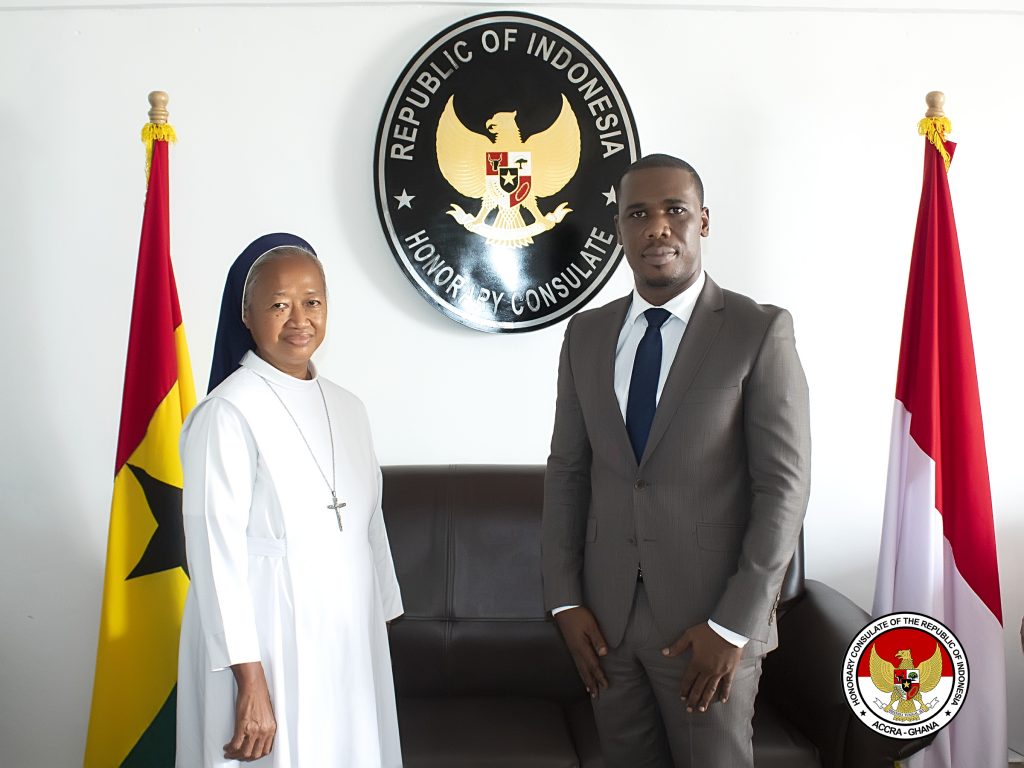 She hinted that they have plans to invite more Indonesian missionaries to come to Ghana to continue to help in the building of the country in various communities.
She was indeed grateful to government and the people of Ghana for the warm reception and great support so far extended to them, saying Ghana is not only lovely but also peaceful.
As Consul, I used the opportunity to thank Rev. Sr. Andreas and also congratulated her and her colleagues for their contributions to the development of the country. I also assured her of my personal support and that of the Consulate in ensuring that their stay in Ghana continues to be comfortable for them so that they can further share their rich experiences with the religious as well as the generality of the people of Ghana.
I also thanked the Catholic Bishops' Conference, the host Catholic Dioceses and indeed all Ghanaians including the religious for the good care they have so far extended to these Indonesian religious missionaries. I was hopeful that the presence of the Consulate in Ghana would further cement the good bond of relationship between Ghana and Indonesia in the years ahead.
END
Source: indonesianconsulate.com.gh