International Scholarship For Foreign Students
Universitas Atma Jaya Yogyakarta shortened as UAJY, is a university located in Depok, Sleman Regency, Special Region of Yogyakarta, Indonesia.
BIMA stands for Beasiswa Internasional Mahasiswa Asing (International Scholarship for Foreign Students). This scholarship program is designed for foreign students only, which is financially supported by Universitas Atma Jaya Yogyakarta to pursue either undergraduate or postgraduate programs.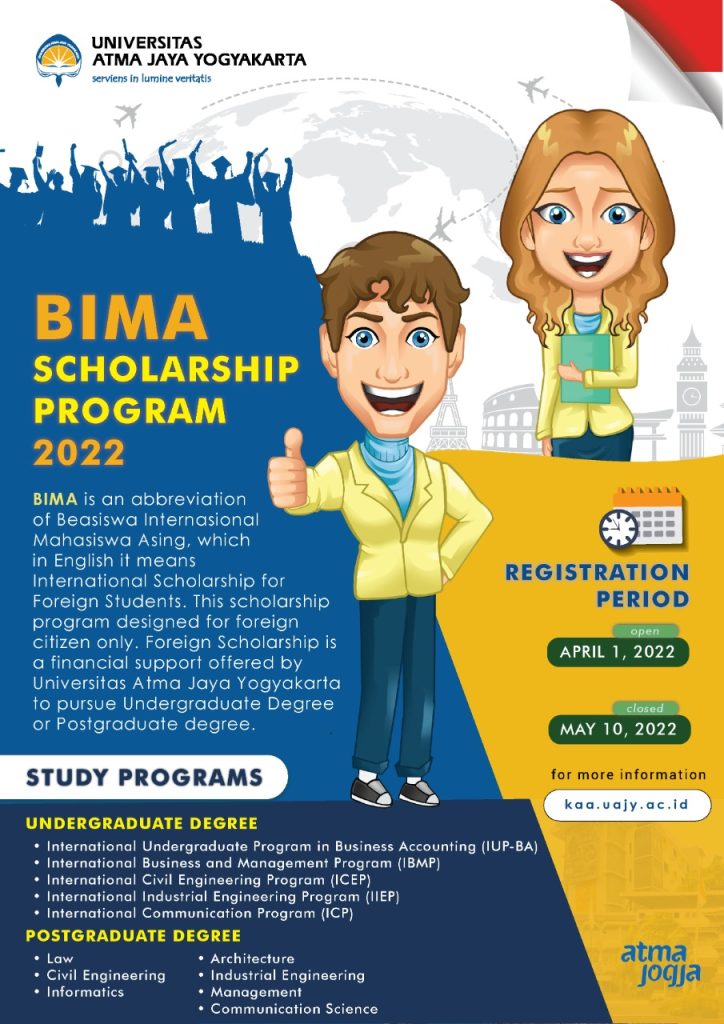 HOW TO APPLY?
Download Submission Form
You must download one of the the form below. Fill the form. Attach it in your submission email.
Submit Your Application
Send all your required documents in one email. Please send to email: bima@uajy.ac.id with subject: Submission – Undergraduate/Postgraduate – Your Full Name
2. Universitas Negeri Semarang (UNNES) is a public university in the city of Semarang, Central Java, Indonesia.
UNIVERSITAS NEGERI SEMARANG cordially invites international students to study and learn many programs offered. We are opening the enrolment for the academic year 2022/2023 with this following condition.
ENROLMENT DATE
the enrolment starts online from 21 February until 23 June 2022
Please visit

https://unnes.ac.id/en/apply

for the enrolment
ENROLMENT CONTACT CENTER
Officer at Unit Layanan Terpadu (ULT) UNNES Gedung H (Rektorat) Kampus Sekaran Gunungpati Semarang
Telephone number (024) 86008700 (office hours)
email: io@mail.unnes.ac.id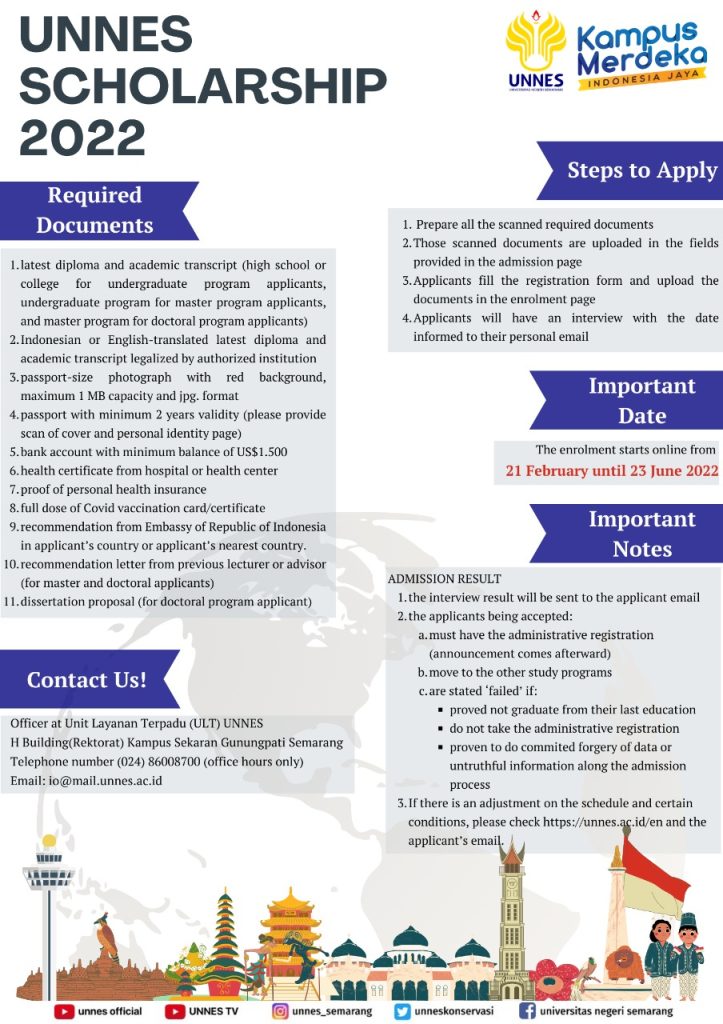 FOR FURTHER EQUIRES PLEASE USE THE LINK BELOW
3. Universitas Islam Indonesia (UII) is one of the leading private universities in Yogyakarta, Indonesia.
Everyday at Universitas Islam Indonesia, you will find an extensive study space to deepen your knowledge, develop your skills, and fostering new ideas. Gain a full learning experience while studying at UII. You may also choose various degree programs at UII which is taught entirely in Bahasa Indonesia, or a specific degree offered at the International Program.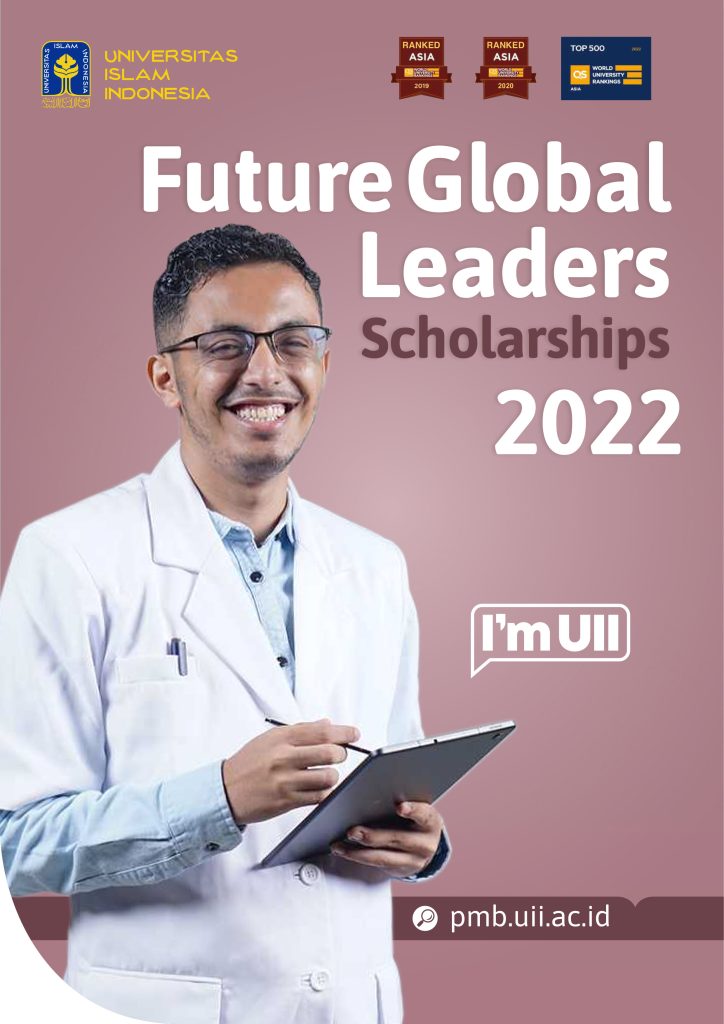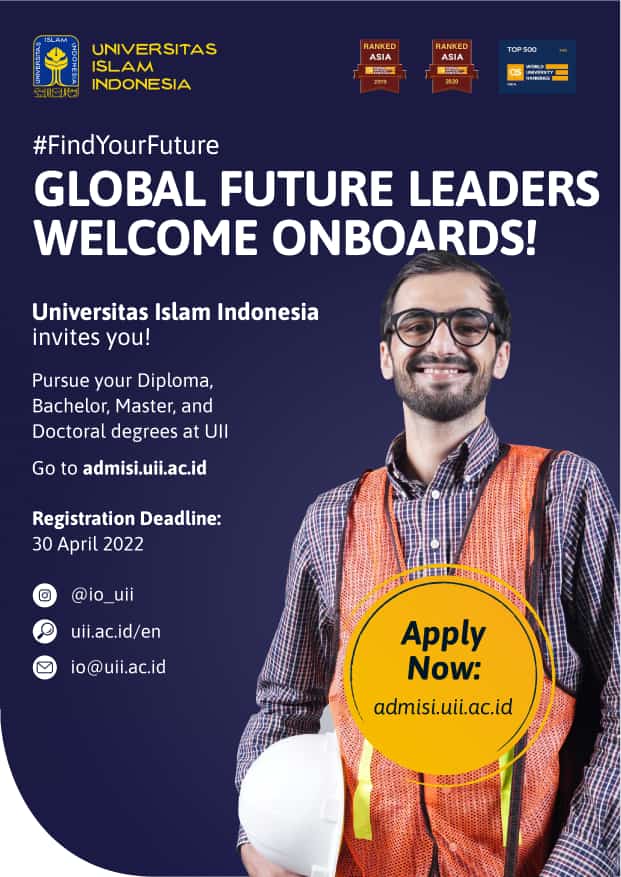 CONTACT
Dr.rer.nat. Dian Sari Utami (Director)
Nihlah Ilhami (Head of International Mobility)
Directorate Partnership and International Affairs
Rectorate Main Building
Jl. Kaliurang Km 14,5 Yogyakarta 55584
Phone : +62 274 898410 ext. 2201
E-mail : io@uii.ac.id
Website : uii.ac.id/en/office-of-international-affairs
4. State University of Malang (Universitas Negeri Malang) abbreviated as UM, formerly the Institute of Teacher Education and Educational Sciences of Malang Located in Malang and Blitar, East Java.
UM ISS
Universitas Negeri Malang International Student Scholarship (UM-ISS) is a prestigious scholarship offered by UM to provide access for highly qualified international students around the world to pursue a degree program at UM, Indonesia. This scholarship consists of 3 schemes as follows :
Each scheme offers different scholarship coverage for highly qualified international applicants to pursue their bachelor's, master's, or doctoral degree in Universitas Negeri Malang, Indonesia. It is disbursed for a maximum period of 5 years for Undergraduate, 3 for Master's, and 4 years for Doctoral (inclusive of language program), on condition that the scholarship awardee maintains a record of good academic performance, obtains a recommendation from 2 lecturers, conduct compliant with university codes, etc. This program facilitates scholars and students from around the world to experience not only the dynamic of higher education in Indonesia, but also the vibes of Indonesian cultural diversities. UM-ISS also offers an exclusive experience of expanding knowledge about various cultures while studying in Malang city.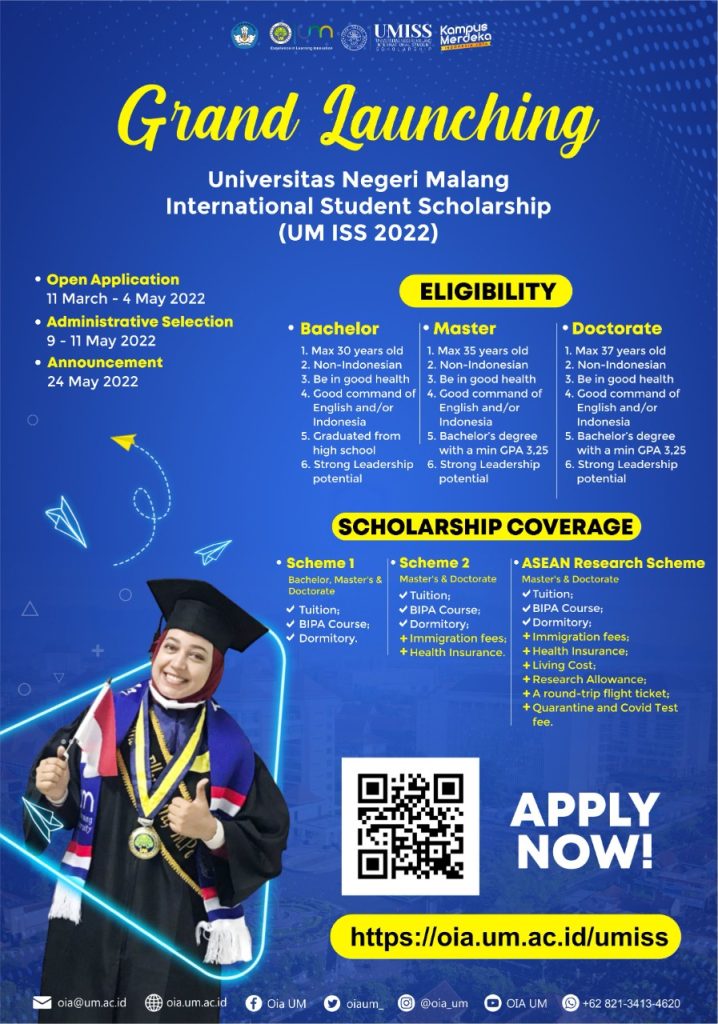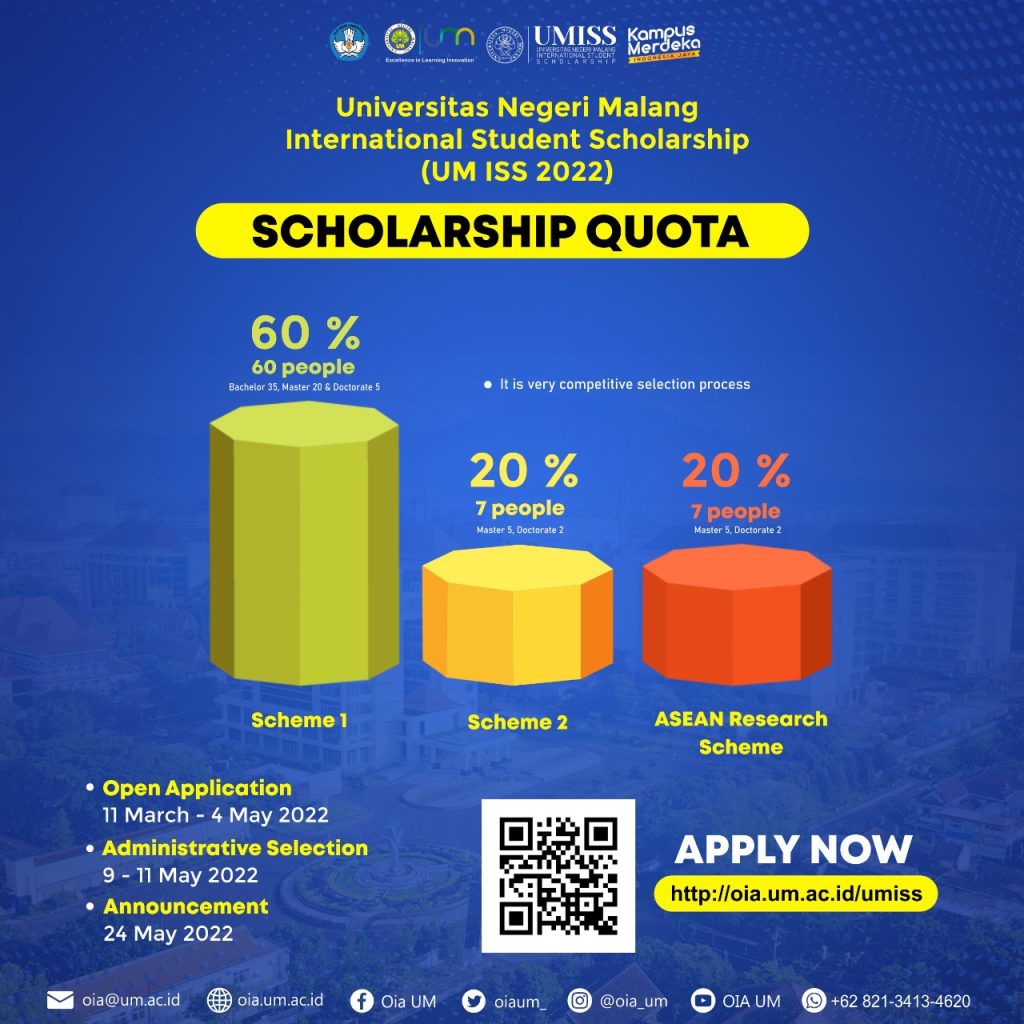 YOU CAN ALSO USE THIS LINK BELOW TO APPLY:
UM International Student Scholarship 2022
5. Universitas Airlangga (Airlangga University) abbreviated as UNAIR is the second-oldest university in Indonesia and also a public university located in Surabaya, East Java.
Airlangga Development Scholarship is a scholarship program available for outstanding international students from developing country all around the world who wish to pursue a master's or doctoral degree program. This scholarship provides numerous benefits and various study programs ranging in the health, natural, and social sciences.
Universitas Airlangga is one of the top public universities in Indonesia, ranked 465th in the world and 4th in Indonesia by QS Global World University Ranking 2021, is definitely the best choice for you to pursue your studies sustained with hundreds of available facilities and surrounded by multicultural and modern atmosphere of the Surabaya as the 2nd biggest city of Indonesia.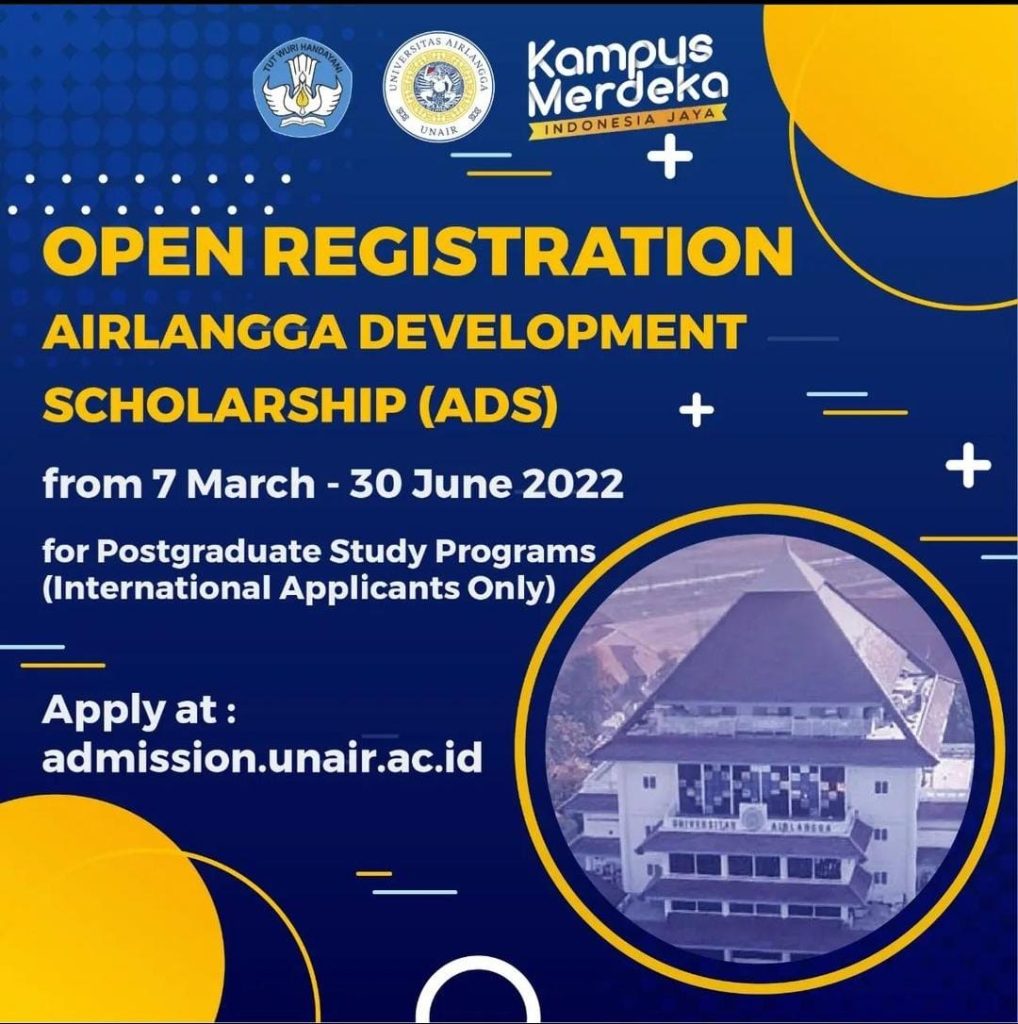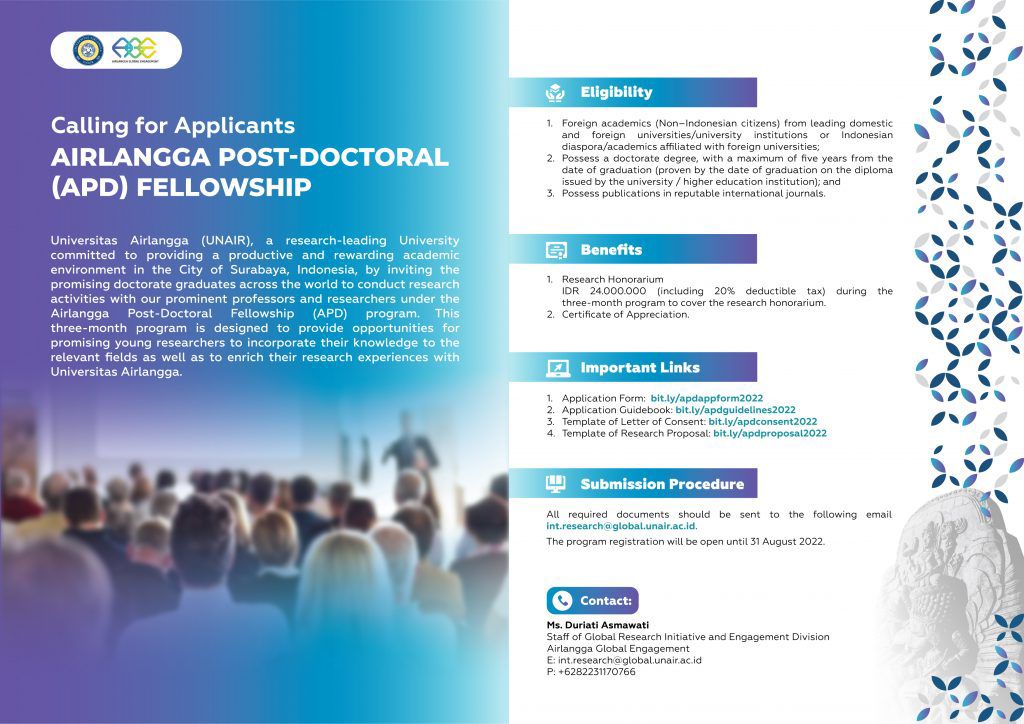 CLICK ON THIS LINK BELOW TO APPLY:
UNIVERSITAS AIRLANGGA (UNAIR) SCHOLARSHIP APPLICATION FOR 2022