FRIDAY, 10TH DECEMBER, 2021 AT THE MARRIOTT HOTEL, ACCRA
Good evening, distinguished ladies and gentlemen!
Chairperson of the occasion, Your Excellencies, President, Executives and Members of the Asian-African Chamber of Commerce and Industry, Traditional Authorities, Invited Guests, all Protocols Observed.
It's an honor done me to address this august gathering of the Asian-African Leadership Forum and Awards Night as the Special Guest of Honour.
It gives me much pleasure to use the platform to highlight the Asian-African relationship with Indonesia and Ghana in retrospect, and how these two countries can leverage opportunities and partnerships to develop their nations and their peoples.
Africa is a resource-rich continent, where a lot of natural resources are abound, ranging from oil, gas, minerals, arable lands among others.
The continent's economy is largely dependent on trade, industry, agriculture, and Human Resources.
The development of the continent in recent times according to experts is due to the growth in sales of commodities, services, and manufacturing, with a projected GDP of $29 trillion by 2050.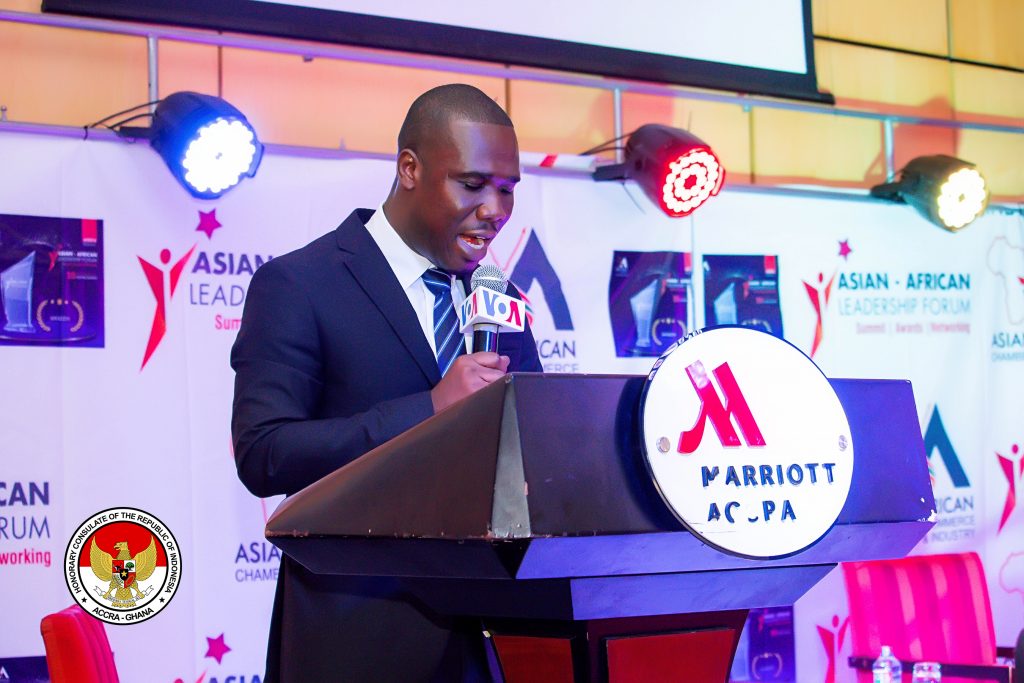 In my view, Africa would easily reach this far before the suggested year if it strengthen its ties with the Asian continent.
Asia which was the poorest continent in the 1960s is now recognized as the fastest-growing economic region, and the largest continental economy by both GDP Nominal and PPP in the world.
Madam Chair, Asia which houses, China, the second world largest economy when measured by nominal GDP, is becoming a force to reckon with on the global stage.
A close trade relationship and collaboration with Asia would drive the accelerated growth of the African continent's economy.
Madam Chair, the African Continental Free Trade Area (AfCFTA) headquartered in Accra, Ghana has become a major catalyst to realizing an African Economic Community and Customs Union dream as envisaged some two decades ago under the 1991 Abuja Treaty.
It is, therefore, my hope, prayer, and expectation that the Asian-African Chamber of Commerce & Industry would take advantage of the presence of the Secretariat in Ghana to achieve its trade-related goals including increasing trade among the millions of the nationals living in the 102 countries on the two sister continents of Asia and Africa.
Ghana has over the period enjoyed political stability in the 4th Republic, which you would agree with me plays a vital role in economic growth. Ghana over the period has also experienced rapid urbanization resulting in a shift of labour into services. The urban population rose from 36% in 1990 to 55% in 2016.
Madam Chairperson, though the country had experienced some ups and downs in its history of economics, the West African country was named the fastest-growing economy in 2019, a development which was no mean achievement.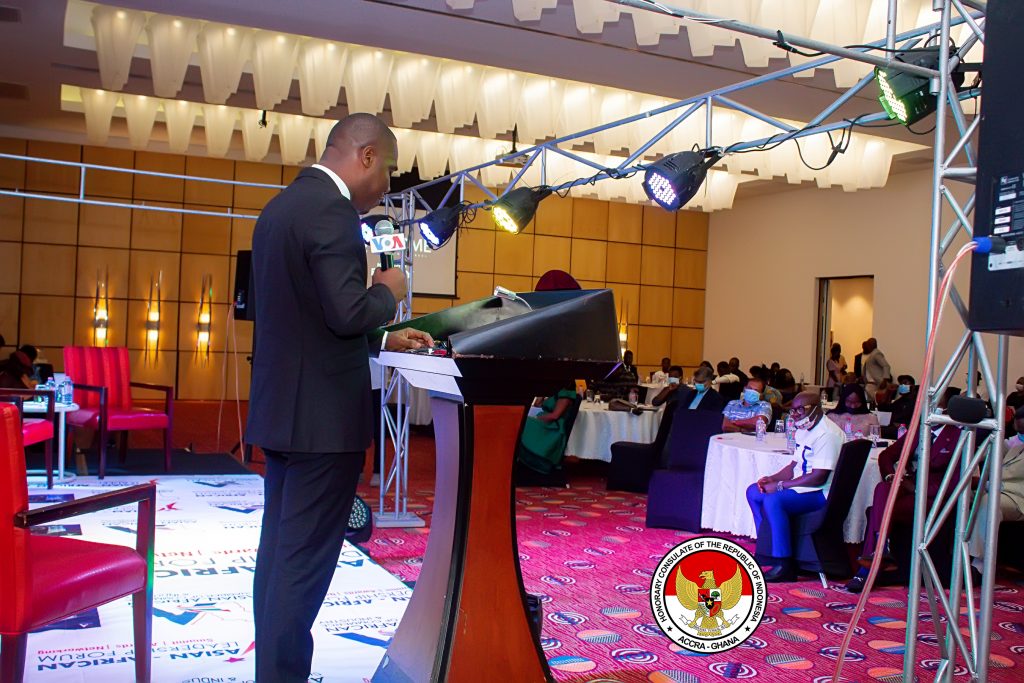 This was anchored on good governance and sustainable development through the introduction of economic reforms and policies that sought to strengthen the private sector and industries.
Ghana's enormous natural resource base could not be underestimated as a contributing factor to the steady growth of the country's economy. It is blessed with gold, timber, cocoa, oil and gas, just to mention a few. However, there is much more to be done to raise the Ghanaian economy to be at par with other developed countries across the globe.
Ghana is plagued with employment deficit, inadequate industrial human resources and food insecurity among others. According to Ghana's Ministry of Food and Agriculture, about 5% of Ghana's population has food insecurity challenges and about 2 million people are vulnerable to becoming victims of food insecurity.
Madam Chair, the data indicated that agricultural growth has been more rapid than growth in the non-agricultural sectors in recent years, expanding by an average annual rate of 5.5%, compared to 5.2% for the economy as a whole.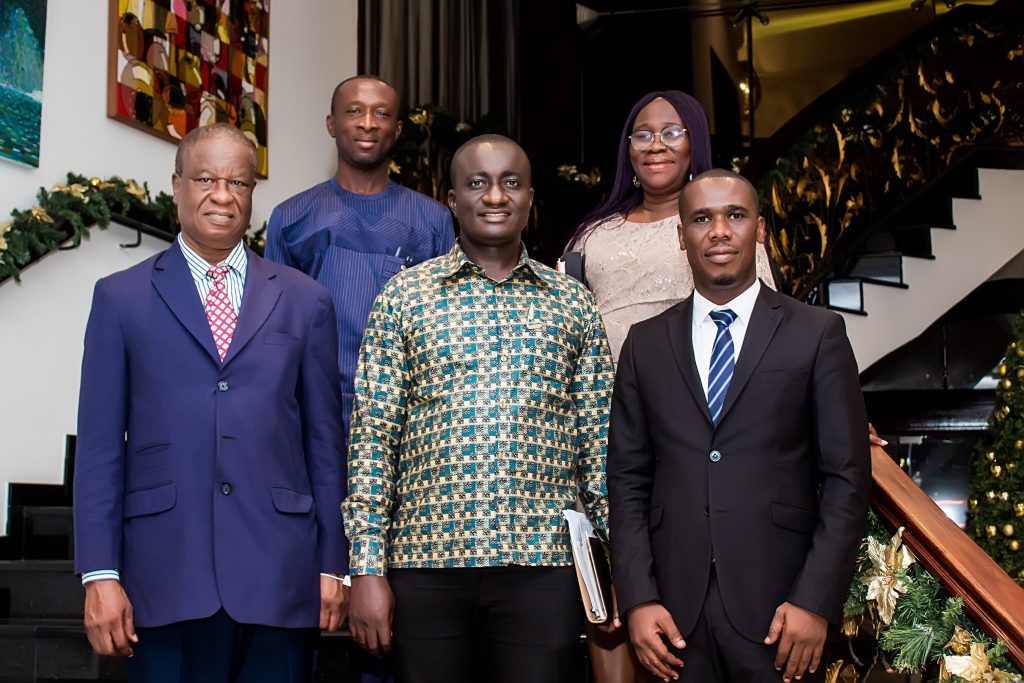 The availability of investment capital, required machinery, and expertise can help turn around the fortunes of the country, which has vast arable lands and a conducive climate for crop and animal production. Similar developments in the manufacturing industry, real estate development, aviation as well as the oil and gas sectors across Africa would increase the continent's economic growth in all its spheres. Madam Chairperson, it is for this reason that I applaud the efforts of the Asian African Chamber of Commerce and Industry in promoting trade and collaborations between the two continents.
I am informed that the Chamber serves as a platform to draw industry players and investors to form a synergy towards promoting economic growth of the African continent. This, when well-executed would improve bilateral trade, build a robust industry, create jobs, build human capacity, and enhance foreign exchange. Indonesia has the largest economy in Southeast Asia and one of the emerging market economies of the world. It is classified as a newly industrialized country. Its economy which is ranked the 15th largest economy in the world is largely controlled by individual Indonesians and foreign companies since the 1990s.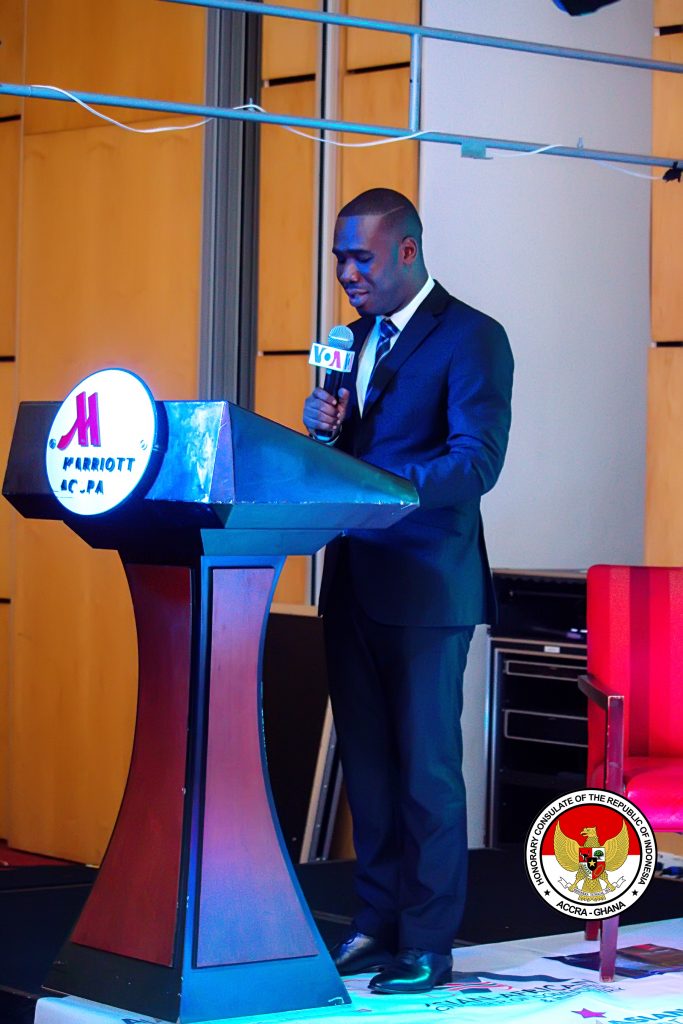 Indonesian products, which are of high quality, have dominated the world market, with a good representation here in Ghana as well. The most sought-after noodle product, 'Indomie' is produced by an Indonesian company, likewise the 'So Klin', 'Medi Soft', 'Viking', 'Sardine' 'Pro Cold' flu medicine among others.
With this at hand, I believe Indonesia stands in a good position to contribute to the development of Ghana's industrial sector under the initiative of the Asian-African Chamber of Commerce and Industry.
The Republic of Indonesia Consulate in Ghana has already begun leading investors to explore opportunities and partner with players in the various sectors. A team recently visited some farms in the Central Tongu District of the Volta Region to have first-hand information on crop and animal production.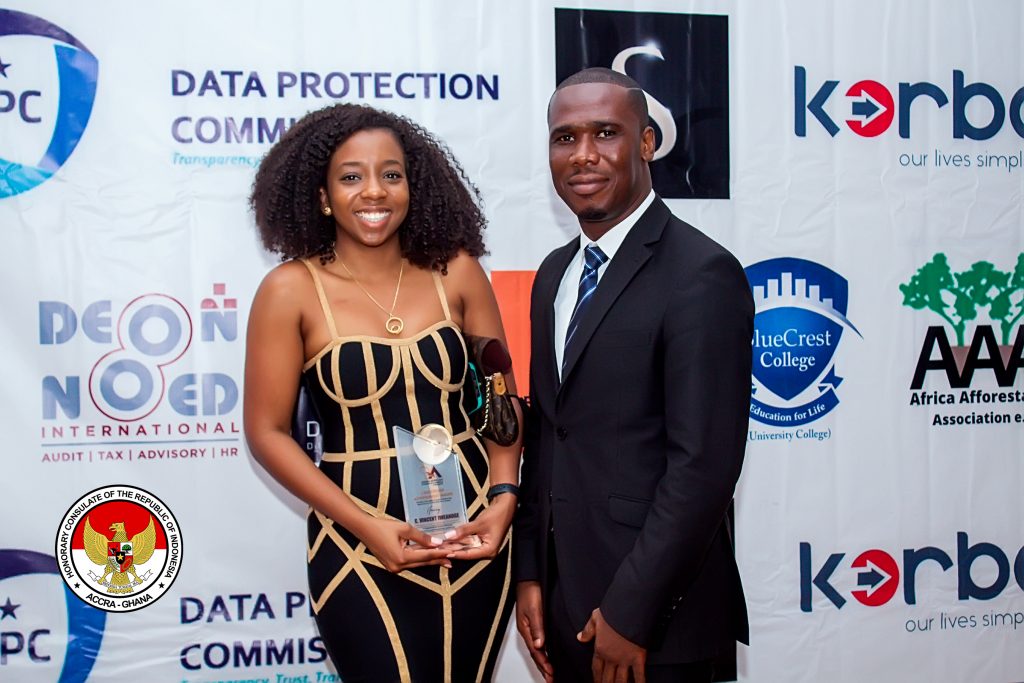 We are looking forward to introducing more investors to industry players in the private sector to foster a business relationship and promote Ghana's economic growth. The Consulate is open to supporting and guiding entities that may wish to trade or partner with investors from the Asian continent.
I am, therefore, entreating all stakeholders to join forces with the Asian-African Chamber of Commerce and Industry in promoting the agenda of industrializing Africa and promoting bilateral trade.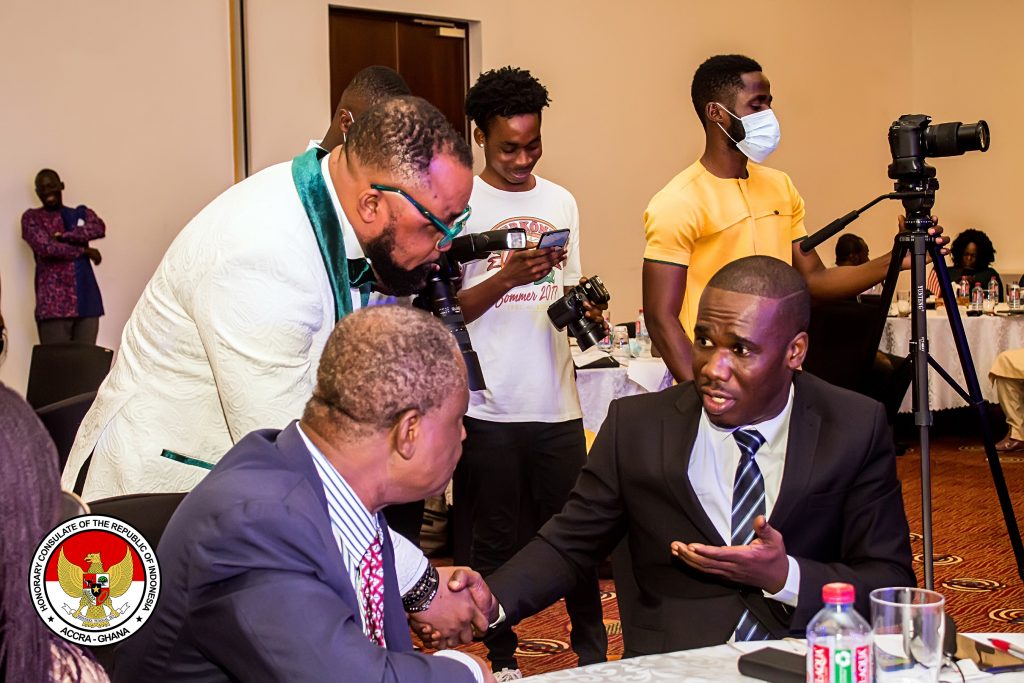 Let me emphasize that this initiative will also significantly contribute to the recovery of the continent's economy from the devastations of the Coronavirus pandemic, which has wrecked havoc in the global economy.
I am very optimistic this initiative is in the right direction and that its objectives would easily be achieved with a concerted effort from all quarters.
Let's all join hands and build Africa to become Asia and Asia to become Africa. Let me use this opportunity to congratulate all award winners and urge them to continue to excel in their respective ventures.
Long Live Asia!
Long Live Africa!
Long Live Indonesia!
Long Live Ghana!
Thank you for your audience.
Please remember to stay safe during this COVID-19 pandemic era.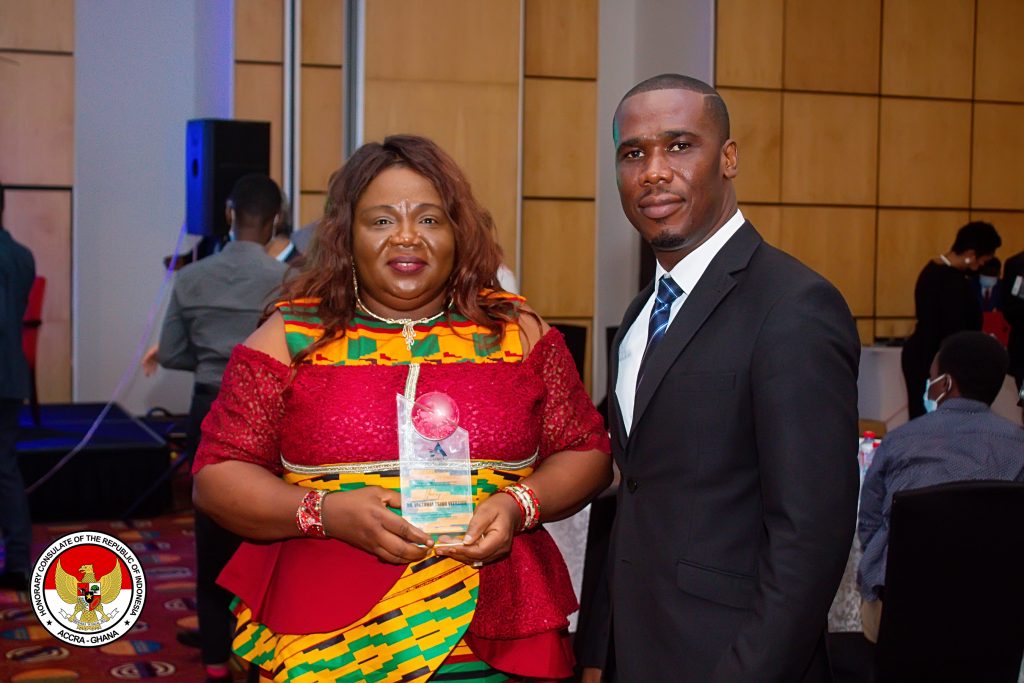 END